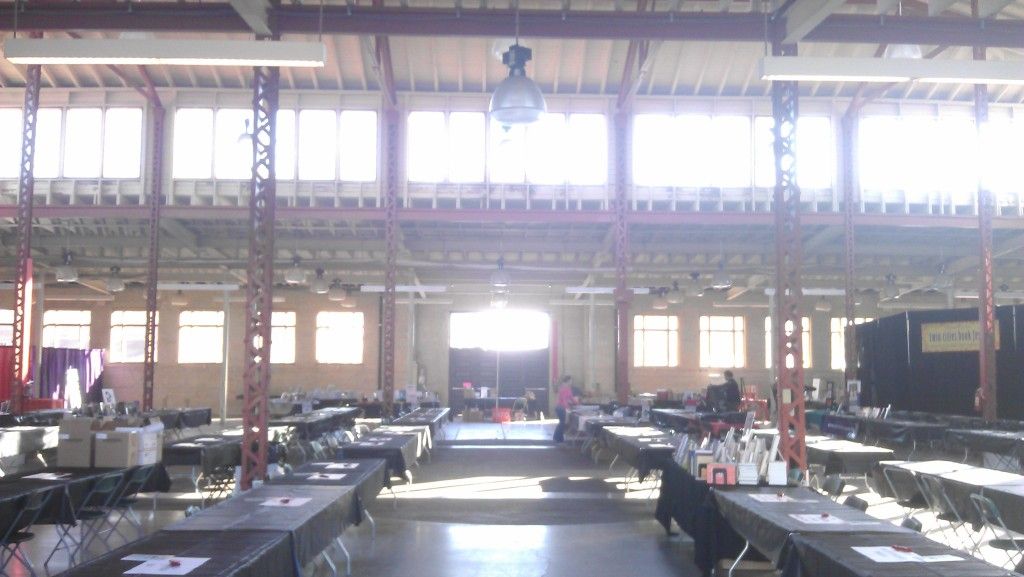 A picture of the dream I had in which I woke up late for the festival, naked
Not that there's anything wrong with that. Still by the time we'd packed up and left Opus & Olives, I was ready for a change of scenery, and clothes. So it was that my three-day long venture outside of the store came to an end at the
Twin Cities 12th Annual Book Festival
. Onward and upward! (Well, I don't know, probably downward, depending on your feeling about free wine and steak vs. $9 Mediterranean Wraps, but still, you know... colder.)
Emerson's bust keeping an eye on the table
There's something intrinsically funny about putting a large group of people who spend the majority of their time alone and in their heads together in one room. On the one hand, it's like a party: "People! Talking! Lights! Woo-hoo!" On the other hand, it's like a party. And as any solipsistic, self-respecting reader knows, there's nothing more exhausting than a social event that lasts longer than three hours. I had the same feeling at
Heartland Fall Forum
, but kept it to myself for personal reasons.
Luckily, I found what felt like a community of wallflowers at the "Local Lit Lounge," which turned out to be a much more alliterative way of saying "Common Good Books has free nuts at their booth," and where authors
Matt Batt
, William Souder, and more stopped by throughout the afternoon to look at us then back at the book festival as we looked at them then back at us. And while I couldn't find the nerve to ask Kate Russo if she wanted to dance or get a Mediterranean Wrap sometime or something, I did join Lara Avery at her table, where the following interview took place:
Interview with Lara Avery

CGB: So Lara is here to talk with fans about her novel Anything But Ordinary, but at the moment is still eating candy corn.
LA: And Espresso Beans.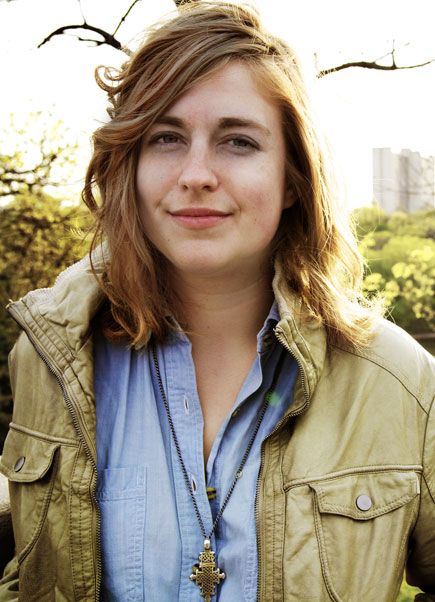 What's your favorite thing about the festival so far?
I like how cozy it feels anywhere you concentrate a bunch of books and people. Life just feels a little warmer.
For anyone listening/reading this in the future, we found Lara waiting outside at the bus stop. She's not actually on the schedule. But being a first time author without an umbrella, we thought we'd take her in. Excuse me Lara, we're really glad you're here!
I'm glad to be out of the rain, Colin.
I see you're still working on that candy corn.
I do love candy corn.
On average, how many author appearances do you agree to based on food?
On average, I'd say 15.2. Candy corn is a stipulation in my contract. These days, candy corn is "money," as they say.
That said, a lot of guys, Gerald Stern for instance, walk into a place like this and say "I need a bowl of m&m's, all different colors, etc..." Without digressing into what that's really about, I've noticed that you're not so picky.
Mostly just candy corn. I don't care what kind. Or even if it's candy corn. If you tell me it's candy corn, I'll eat it.
Noted. So Lara, I understand that you were just in New York City. Did you give any readings there?
I did one at a bookstore called Books of Wonder, and I had a great time. Unfortunately, it was mostly adults, which are not my target audience, but they asked a lot of tough questions. I got to read a portion of the book and mingle with my fellow young adult authors. I also rode in a taxi-cab!
And from the tone of your voice it sounds like that was a first?
Nope!
It just never gets old. You don't care for the adult audience because they ask too many tough questions, is that it? They get down to the bone too early on?
I like the tough questions. I'd just like to put a face to my readers.
And too often the adults are covering theirs?
I don't appreciate your humor.
I'm not convinced it was a joke.
Did you know that New York taxi-cabs have TV's in the back of them?
No. Is that so they don't have to answer questions about Times Square?
I don't know whose idea it was, but it's a good one. You get updated ont he weather, the latest brands and trends, local shops, and sometimes even news.
If there was one complaint I had last time I visited New York it was I didn't feel caught up on local brands.
Your worries are over.
So what are you gonna say if anybody sits down here?
I'm going to thank them for being here, and if they have any questions about the book I'll try to answer them in a vague way so as to entice them into reading it.
What do you do as an author to try and convince people to read your book, without actually telling them anything about it? Lie and say it comes with candy?
That's what Jonathan Safran Foer does. Just kidding.
Ha! Didn't see that one coming, Foer!
He and I are rivals. He just doesn't know it yet. No, I entice them by leaving out the ending, because if there's one thing human beings can't stand, it's a story without an ending.
..........
Which, incidentally, was just what I was thinking, as I stood up, unaware of what else the Twin Cities Book Festival would bring. It turned out to be a pork sandwich. But also a chance to meet Hazel from
Hazel & Wren
, read a crap story about Godzilla for the guys at
Revolver
, run into my friend Josh who has a wonderful short piece in volume two of
thirty two
, and watch as Cheryl Strayed and Richard Russo read the same crap story about Godzilla for the guys at Revolver, while people were busy with nuts. Oh, and
Stephen Burt
was there! I heard!
It really was, as David said, a chance to reconnect, reaffirm, and "fall in love with our jobs all over again." Which is just one of the reasons I'm glad to be back.