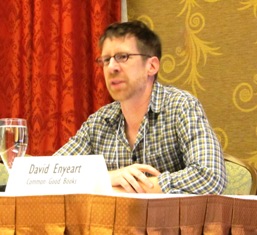 I guess I'm not sure if it makes sense to tag the year on the end of this blog post, as this year's Heartland Fall Forum was also the first. But it sure is fun. In fact, tagging a year on the end of just about anything makes just about anything sound that much more official. For example:
Going to the store at 9:45 at night to get cereal, 2012
Forgetting your keys in your car, unlocked, then realizing much later that your car could have been stolen if anybody knew about the keys. But it wasn't. But still, 2012
They're making a sequel to Thor! 2012 (2013 actually, but you get the idea)
See what I mean? I could go on, but won't. And anyway, I get the feeling there's an entire chapter dedicated to this kind of thing in
The Art of Procrastination,
by John Perry. And if there isn't, well, I'm sure he's written it down somewhere.
Regardless, two weeks ago today, my fellow booksellers and I piled in the back of Martin's car with our winter coats and coffees and descended abruptly on The Dunn Brothers at 3rd and Washington. Evidently, we'd arrived an hour early to have breakfast with the staff of Graywolf Press; evidently, coffee is just one of many "breakfast items."
As quickly as we came I covered up my travel mug with a Dunn Bros. coffee sleeve and, like a pro, proceeded to the The Depot down the street, where MIBA (Midwest Independent Booksellers Association) and GLIBA (Great Looking Independent Booksellers Association) had come together for the first ever Heartland Fall Forum. I suspect, because they rhyme.
Needless to say, this was my first regional trade show experience; a chance to meet with publishers and authors, say hello to reps I'd met, but were fun to see out of context, some of them drinking beer, and wear a
lanyard
. I also got word of dozens of upcoming spring books from our increasingly extraordinary publishers in town that I can't wait for, such as Fiona Maazel's novel
Woke Up Lonely
. The truth is Heartland Fall Forum could have taken place inside an abandoned car lot full of authors on consignment giving away crackerjack and bookmarks and I would have an okay time. From what I gather, however,
this
year's installment of the first annual H.F.F. was particularly popular among those who have been in the game for years, like our own assistant manager and events coordinator David Enyeart (above), who was quoted in a recent
article in Shelf-Awareness
.
This was to be the first in a series of events that got us out of the store and in bed by 9:30 last week, including the Twin Cities Book Festival and Opus and Olives...