"I have no memory of intending to write a novel. I think I was halfway into this book before I admitted that's what it was." - Ben Lerner, on Leaving the Atocha Station.
The title of this post, believe it or not, isn't a reference to how awkward writers tend to be in person, but a look at two recent forays into the world of children's picture books by writers heretofore unknown for writing children's books:
Sheila Heti
and
Ted Kooser
. About a year ago, I inadvertently attended the premiere of a piece featuring the poetry of Ted Kooser. By "inadvertently" I mean I didn't know the piece would be there, not that I meant to get my oil changed and ended up, confused beyond dispute, sitting through three hours of choral music. I don't recall the title of the poem or the piece, but do remember that a member of the choir had ambitiously invited the once-poet laureate for lunch to talk about his part in transcribing his text to music, to which Kooser replied: "I have no interest in this," or something along those lines. It was, if memory serves, the poet's first time hearing his words flattered from the page and put to music, and while, according to Kooser himself, he generally lacks faith in the potency of such endeavors, he liked less the interaction than what his words and song together had become.
It's often true that artists have little, next to no reservation about giving work away; specifically, their work. (I doubt if teams of artists don't think twice before unlocking doors of neighbors in their studios for strangers.) In fact, their giving up tends to be the last ingredient required of the work itself, what makes it come to life and, in the grand tradition of post-structuralism, keep on living. But poets and writers, for whatever reason, seem less inclined to step away from the vehicle, so to speak. That is, the good ones; the ones who don't write down the first apparitionally clever string of words that comes to mind, as I did there and may not have it in me to avoid from here on out. The faucet's on, the water's running! Language, like confetti, with nowhere to go but down!
But back now to the good ones; the good ones want their language to go up. Or, at least, not to get easily
mixed
-up with something readers read in J.Crew style guide. As if anyone could hope to complement those
reds
with words! And yet, that's essentially what well known writers do each time they set out to add words to stories told and contingent upon images: they instead write about clothes. No, no, they're made to cleave, constrict the words they
have
to say, in effort to imagine, and so recognize, the story independent of excess.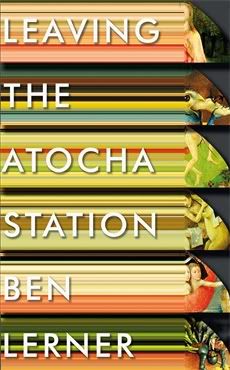 Poets do this all the time. I do this at parties around men who like apparently all sports. But poets are especially notorious/applauded (depending on your level of indifference), like Depression-era housewives, for doing much with little. The truth is though most poetry collections, contrary to popular belief/received wisdom of lit types, don't endeavor to stop making sense, but simply mine wide worlds of fiction for the best parts (think descriptions of epiphanies and food smells), and thus are not so different from prosers. Writers, though, in general, must think hard about their language each and every time one strays from her elected genre, period. As Ben Lerner says in a recent
interview with Granta magazine
:
I think I tend to work against a previous book to a certain extent, at least formally: I wrote a book of sonnets (of a sort) and then a book primarily comprised of prose poems. Then I wrote a book in which restricted form and the line break returned and then I wrote a novel – took up the sentence again as a unit of composition. And now in a poem like 'Dilation' I have a line that's suspended undecidably between prose and verse – exceeding the imposed right margin of the page most of the time but nevertheless breaking, becoming a species of breakdown.
The struggle, almost independent of the writer, or at least of her intention, between nothingness and something is inherent in the process then of putting words on paper. Ted Kooser, in just the last two years, has written two books both for children and adults, both with titles blunt and reminiscent of a shop teacher addressing something in your work that will have to be redone:
Bag in the Wind
and
House Held Up By Trees.
When
Bag in the Wind
was published, Kooser said, "One of the thing's I've learned about children's writing is that the writer avoids too much description because that's the job of the illustrator." And he was right. His and illustrator Barry Root's tale about a plastic bag that blows up from a landfill across town is simply beautiful , even if it does narrowly compromise the beauty of the bag as object in reminding us, unlike the homeless man and shop owner, to stop looking at the bag and just and recycle the damn thing.
Tangentially, Heti's children's book,
We Need a Horse
, approaches the art of reservation from a different angle, as her
interview in The Rumpus
, excerpted below, shows. As readers of her latest,
breakout novel
seem to
abhor
and appreciate, the Toronto based author is quite comfortable airing out what's on her mind; a way of being and of writing Heti doesn't necessarily abstain from in
We Need a Horse
. And yet, with all of 32 pages at her disposal, she is able to ride on a similar train of thought to
How Should a Person Be?
, without the aid of a blank slate
:
Rumpus:
Why did the horse wonder why she was a horse?
Heti: It probably came a little out of disappointment of being a horse, and so she didn't understand why she had to be a horse. I think both the horse and the sheep were sad at having to have that form.
I'd been out with a friend of mine before I wrote the story, and she's this beautiful woman and a lovely person, and she was like,
What's wrong with me? I'm this age and I'm single and I don't have children,
and all this stuff. And when I get home and wrote the story I was thinking she was like the horse. And it broke my heart because there's nothing wrong with her.