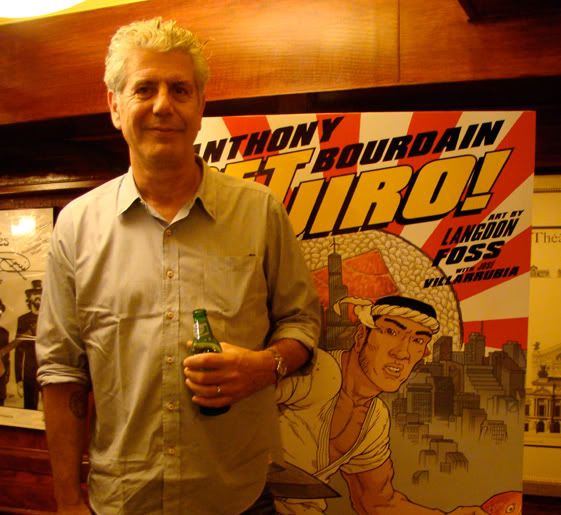 I'm going to refrain from commenting on July's Weird Book of the Month,
Get Jiro!
by Anthony Bourdain, except to say that this month, in particular, seems ripe with comics written by people who don't write comics. Or rather, people whom we
thought
didn't write comics. Of course, we never really thought that either. That's like purposefully
not
thinking George Washington wrote pop songs; it didn't happen, in our heads or Philadelphia. As far as we know... But that was yesterday and
this
is hysterical:
The comic, sure, but also the bewildered look on Anthony Bourdain's face. What's
he
thinking about? His agent's name? What time it is in Brooklyn? "Heineken?" perhaps to himself.
Hard to say. And harder still to say what
Flannery O'Connor
had in mind when she began producing comics in the '40s. But whether she was juggling two art forms or less effortfully minding both her writing and cartooning, what's been published here is also hard to find.
And lastly, as if celebrity chefs and Southern Gothic writers getting drawn into the graphic novel genre wasn't weird enough, we can expect to hear later this month from a monkey in a fedora, with his first strip titled "AAA GH %6 llll" 7