As you recall, on Tuesday, in celebration of the release of Dave Eggers' latest novel,
A Hologram for the King
, I made what was in retrospect an overzealous effort to show off our dozen or so copies, in style.
McSweeney's Store Display, Common Good Books, St. Paul, MN
Right, so as you see, I not
only
put out Eggers' book, but a handful of
McSweeney's
publications. Plus a couple books that just looked good. Which worked for me! Until I stumbled upon this: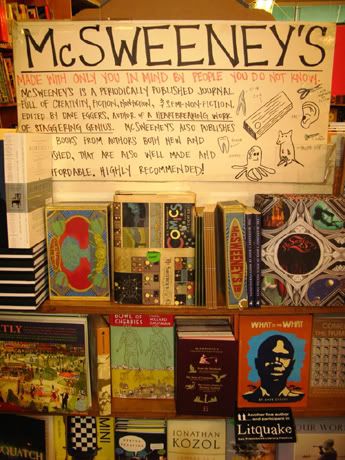 McSweeney's Store Display, Green Apple Books, San Francisco, CA
A McSweeney's display to write home about from Green Apple Books, in San Francisco, CA. I felt a bit embarrassed, but kept it to myself, the way you feel when you forget to bring a dish to share at a party, but it doesn't occur to you till you're saying goodbye to everyone in the kitchen. That is, until I scrolled down and saw this:
McSweeney's Store Display, Porter Square Books, Cambridge, MA
An even more noteworthy display from none other than Porter Square Books, in Cambridge, MA, in a mall. Needless to say, I was impressed, bewildered, hurt, but in the end determined to step up our store's display, in hopes of landing us an apparently much coveted spot on the
Bookstores With McSweeney's Displays
website. And so I took steps toward my goal. At first, taking a picture of the same display exactly, but from a different angle.
McSweeney's Store Display, as seen on floor, Common Good Books, St. Paul, MN








Then, removing books from the display and nonchalantly walking around the store with it, or "traveling," as we say in the biz, which means business.
Then, asking customers to please come back and buy the book. In most cases, the same book I was "traveling" with.
And finally asking Claudette to do it.
And just like that...
New, Improved McSweeney's Store Display, Common Good Books, St. Paul, MN






Voila! Take that Whitman College Bookstore! And as for you, dear reader, we hope that you'll stop in to admire
our
McSweeney's Store Display up close, real soon. Now back to work.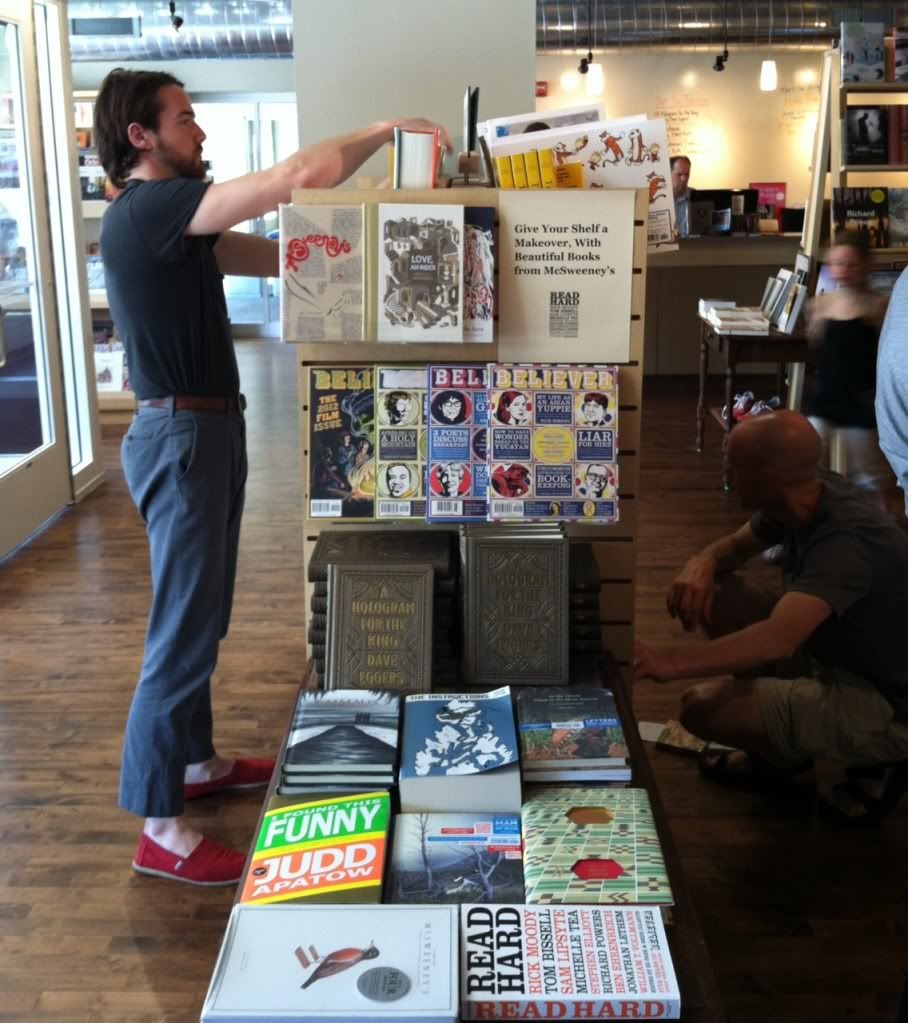 P.S. Check back for results on our submission to McSweeney's!